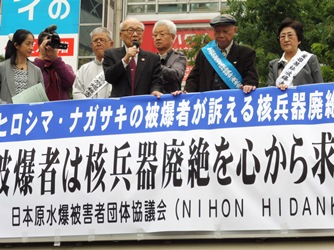 A starting joint action of the international signature campaign in support of the Appeal of the Hibakusha (A-bomb survivors of Hiroshima & Nagasaki) for the elimination of nuclear weapons was carried out at downtown Shibuya, Tokyo on April 27, 2016.
With a banner reading "Hibakusha Earnestly Desire  Elimination of Nuclear Weapons" hanging high, Terumi Tanaka, secretary general of Japan Confederation of A- and H-Bomb Sufferers Organizations (Nihon Hidankyo), called on passers-by to support the petition for the abolition of nuclear weapons.  He said, "I want hundreds of millions of people in the world to support the petition".  Many Hibakusha took part in the action from Tokyo and nearby prefectures, and insisted that nuclear weapons must never be used again, speaking of their A-bomb experiences.
Many peace organizations and individuals, which supprt the Appeal of the Hibakusha, also joined the street action and called for the start of negotiations on a treaty to prohibit and eliminate nuclear weapons.  They include Japan Council against A and H Bombs (Gensuikyo), Japan Peace Committee, Peace Boat, Religions for Peace Japan, etc.
The Hibakusha and participants were so much encouraged to get support for the petition from young people, high school students, housewives and tourists from USA, UK, France and China.  A total of 277 signatures were collected in the 45-minute action.
the Appeal of the Hibakusha and petition form[PDF]