October 25, 2015
Japan Council against Atomic and Hydrogen Bombs (Gensuikyo)
Gensuikyo delegation members:
1. YAMADA Reiko, Hibakusha of Hiroshima/ Vice-President, Tokyo Federation of A-Bomb Survivors Organizations
2. Dr. SAITO Osamu, Physician at Watari Hospital (Fukushima)/Representative Director, Japan Council against A and H Bombs (Gensuikyo)
3. ASATO Rieko, National Staff, Gensuikyo
4. AKIYAMA Yutaka, Journalist, Daily Akahata
Helsinki, Finland: (October 4 – 7)
Host: Peace Union of Finland
Events:
1. Meeting at Peace Station, October 5:  About 40 people attended, including youth and women's groups, students and citizens. Exhibition of photo posters offered by Hiroshima Peace Museum depicting Hiroshima and Nagasaki.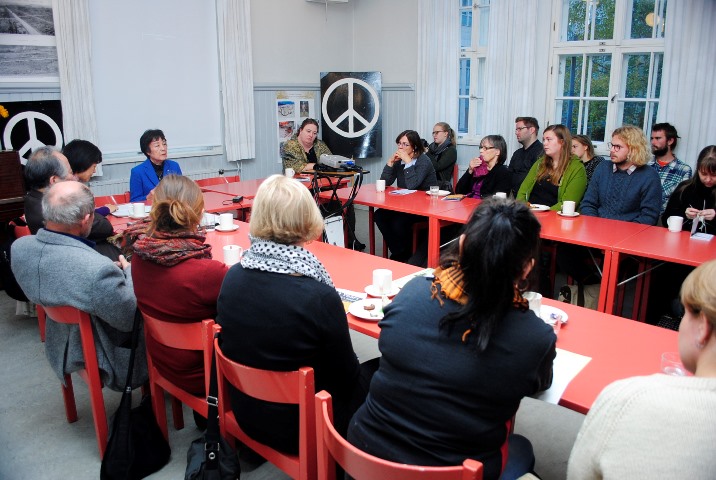 2. Meeting with the Finnish Radiation and Nuclear Safety Authority (STUK), October 6:  Delegation met with Tarja Ikaheimonen, Director of Environmental Radiation surveillance and Emergency Preparedness and Risto Paltemaa, Director of Nuclear Waste and Material Regulation.  Several members of Women for Peace and other peace activists also joined the meeting.
3. Lectures at a training center for conscientious objectors, October 7:  About 100 young men each attended the two sessions.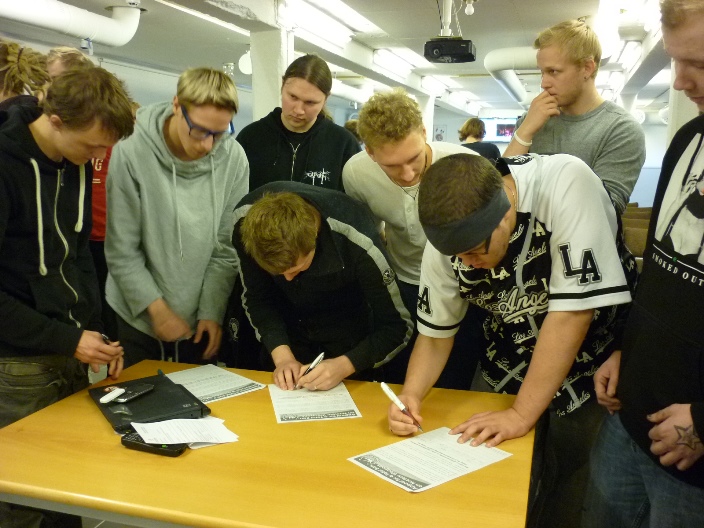 Göteborg, Sweden (October 7 – 12)
Host: Fredsam (Coalition of peace groups in Göteborg)
Events:
1. Meeting at Göteborg Central Library, October 8:  About 50 people attended, including students, parliamentarians, peace and justice activists, professional workers, Japanese community members, etc. Exhibition of photo posters offered by Hiroshima Peace Museum depicting Hiroshima and Nagasaki.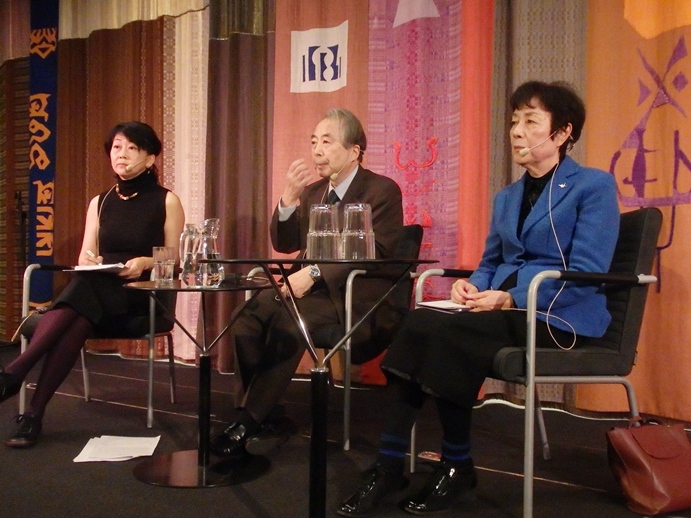 2. Visit to Sörgårdsskolan (9th grade class), October 8: About 80 students attended. Göteborg Posten (Largest daily in Göteborg) featured a big story on Ms. Yamada. 
3. Visit to Folkhögskola (adult education), October 9: About 120 students attended.
4. Visit to the U.N. Club, Hulebäcksgymnasiet (senior high school), October 9: About 30 students and teachers attended. See: http://www.harrydaposten.se/2015/10/overlevande-berattade-om-hiroshima/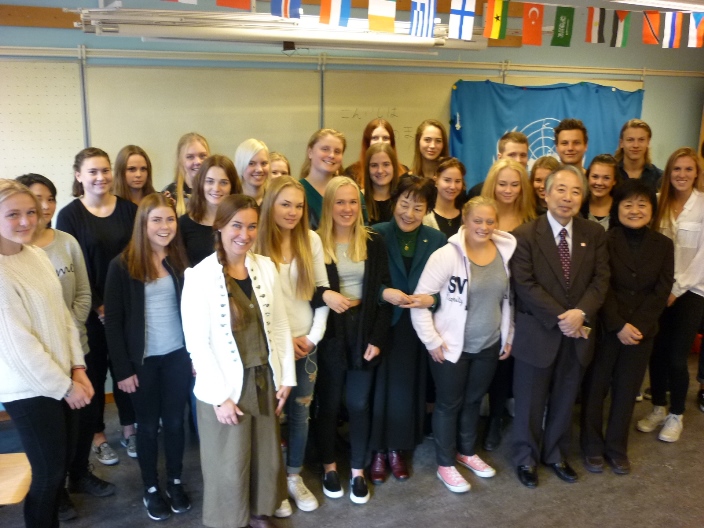 5. Exchange meetings with the peace movement activists in Göteborg on October 10 and on Brännö Island on October 11:  About 5-12 members gathered.
The message of the Hibakusha, A-bomb survivor, seemed to reach the hearts of especially young people everywhere and encouraged them to join activities to achieve a nuclear-free and peaceful world.  Discussion with citizens focused on the recent legislation of the War Laws in Japan and the future struggle to defend Japan's Peace Constitution.  The problems of Finland and Sweden with the NATO is analogous to those of Japan and the U.S., and good discussion was held on the response of the peace movements.  In Finland, where the project of a new nuclear power plant is at issue, the delegation visited the nuclear regulation authority and urged it to learn the true lessons from the Fukushima disaster.
We sincerely thank Laura and other members of the Peace Union of Finland, and Tomas and other groups in Fredsam, Göteborg for their very warm welcome, care and hospitality extended to our delegation members during their stay in their communities.