November 2, 2015
Japan Council against Atomic and Hydrogen Bombs (Gensuikyo)
Gensuikyo delegation members:
1. Ms. NAGAO Yuri, Vice Chair, National Confederation of Trade Unions
2. Mr. IESHIMA Masashi, Tokyo Federation of A-bomb Survivors Association
3. Ms. KIMURA Kuniko, Chiba Association pf A-Bomb Survivors
4. Mr. SUGASAWA Saburo, Secretary General, Yamanashi Gensuikyo
5. Ms. IMURA Hiroko, Hyogo Gensuikyo
6. Mr. YOKOE Hideki, Secretary General, Aichi Gensuikyo
7. Ms. TSUCHIDA Yayoi, Assistant General Secretary, Gensuikyo
8. Ms. OUCHI Hibiki, Gensuikyo
Barcelona, Spain: (October 4 – 7)   Host: Centre Delàs
October 5:
Morning: Media interviews all morning at Centre Delàs
The Hibakusha, both Mr. Masashi Ieshima and Mr. Kuniko Kimura were interviewed by the national TV, newspapers, radio etc.
Afternoon: Visit to Mayor Ada Colau of Barcelona City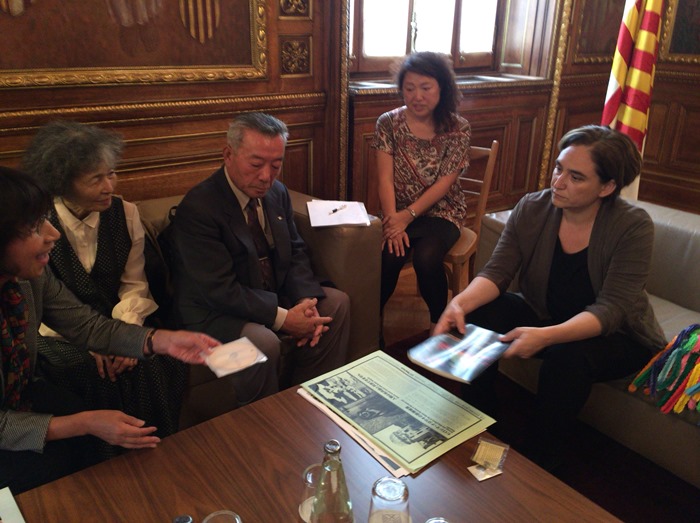 Attendees: Gensuikyo delegation, Centre Delàs members, Counsul General of Japan in Barcelona
http://ajuntament.barcelona.cat/alcaldessa/es/actualidad/una-delegacizen-de-supervivientes-de-hiroshima-visita-barcelona
Evening: Conference "What World after Hiroshima? Commemorating the 70th anniversary of the atomic bombing and demanding the prohibition and abolition of nuclear weapons" at Casa de Cultura, Sant Cugat.
About 70 people gathered including local government representatives.  Testimonies of the Hibakusha and the showing of a DVD "A Mother's Player" moved many participants to tears.
http://www.cugat.cat/noticies/videos/112613
https://www.elcugatenc.cat/drets/supervivents-bombes-atomiques-hiroshima
October 6:
10:00am – 13:00pm: Parliament Event in Madrid and Press interviews
Attendees: Representatives of United Left, Basque Nationalist Party, Green Party, Spanish Socialist Workers' Party. 
We could hear the stance of each political party on nuclear disarmament. 
France (October 7 – 11)  Host: Le Mouvement de la Paix (French Peace Movement)
October 8:
Morning: Met at Peace House (Local office of Mouvement de la Paix) and moved to the strategic submarine base at Île Longue.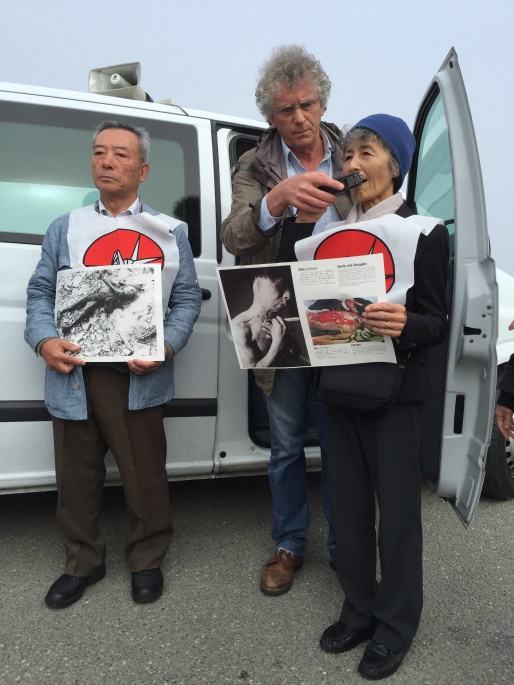 We joined demonstration of about 60 people in front of the base and chanted "No! to nuclear weapons."  The Hibakusha got interviews by media and our action was aired by a French TV station.
Afternoon: Meeting with members of local peace movements at Quimper.  Testimony from Hibakusha and Q&A, discussion. 
Evening: Meeting with regional leaders of the Trade Union CGT
8:30pm: Conference at International House in Rennes.
About 60 people from Rennes gathered. Followed by the Hibakusha's testimony, there was an active discussion.  We got many questions about Japanese war Laws, Fukushima Nuclear disaster, etc.
October 9
Morning:  The Hibakusha spoke their A-bomb experiences to about 200 pupils from 9 classrooms and people of Caen at Cane University.  Hibakushas were interviewed by a local radio station.
Evening: Reception and buffet in the Peace House (Mouvement de la Paix) in Saint-Ouen near Paris.
October 10:
10:30~12:30: Meeting with the leaders of Mouvement de la Paix at local union office of CGT.
15:00~17:00: Participation in a gathering organized by the association SOLIDA at Châtelet public square. 
About 70 people, including Japanese, Korean and Chinese living in Paris and members of local peace movements, took part.  Ms. Kimura gave her testimony and Ms. Nagao gave a speech.  They called for joint efforts to scrap the war laws which were forcibly enacted by Abe government.  Criticism against Abe government was raised one after another on not only the war laws but its promotion of construction of a military base at Henoko, Okinawa.  The participants deepened solidarity and pledged to work together to change the Japanese politics.
London, U.K. (October 11 – 13)  Host: Campaign for Nuclear Disarmament (CND)
October 11:
Buffet Dinner by CND members
October 12:
13:30 pm: Meet with members of British peace movement at Fiends Meeting House (Quakers)
Hibakusha Testimony by Ms. Kimura & Speech from Mr. Saburo Sugasawa, secretary general of Yamanashi Gensuikyo.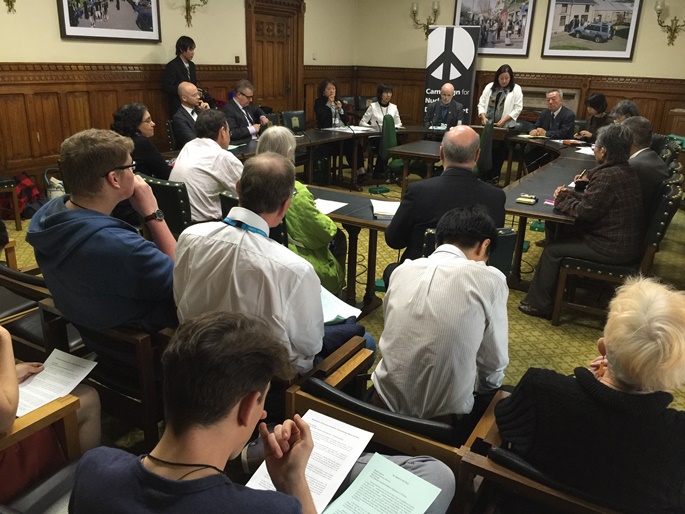 17:00 pm: Public meeting in Parliament
Hibakusha Testimony by Mr. Ieshima & speech from Ms. Yuri Nagao.
About 25 to 30 people gathered including 10 parliamentarians representing Labour Party, Scottish National Party, Green Party as well as some activists from British peace movement.  After listening to Hibakusha's story, one participant said that the Hibakusha's story has power to increase public support for nuclear abolition and more people need to listen to their experience especially at schools.  It seemed that the testimony of Hibakusha was well taken by the participants and we had a fruitful discussion.  We were very encouraged to hear the strong commitment and determination of Scottish National Party to oppose the replacement of Trident nuclear weapons system and achieve the abolition of nuclear weapons.
MEDIA INTERVIEW
BARCELONA
La Directa (digital newspaper)
El Periodico (newspaper)
Cat Radio El Mati (Radio)
Ara (newspaper)
Press Digital:
http://www.pressdigital.es/texto-diario/mostrar/317958/una-superviviente-de-hiroshima-recuerdo-ver-a-mucha-gente-quemada-gritando-por-las-calles
Press Digital Japan:
http://www.pressdigitaljapan.es/texto-diario/mostrar/317903/70
Cat Plural / El Diario:
http://www.eldiario.es/catalunyaplural/Lodi-lesperit-despres-dHiroshima-portaven_0_438157094.html
Cadena Ser: radio
http://cadenaser.com/emisora/2015/10/06/radio_barcelona/1444135750_162022.html
http://www.cugat.cat/noticies/videos/112613
El Cugatenc:
https://www.elcugatenc.cat/drets/supervivents-bombes-atomiques-hiroshima
Diari San Cugat / Tot San Cugat:
http://www.totsantcugat.cat/actualitat/poble/societat/eradicar-la-bomba-atomica-objectiu-de-supervivents-d-hiroshima-55828102.html
MADRID
El Diario: http://www.eldiario.es/desalambre/Muchas-supervivientes-Hiroshima-rechazadas-deformaciones_0_438507218.html (DESALAMBRE)
La Marea (digital newspaper)
InfoLibre (digital newspaper)
Paz con Dignidad (Ricardo Gayol)
RNE (national radio)
TVE (national television)
http://www.rtve.es/television/20151005/aroja/229148.shtml
(Also progam 'Parlamento' 10th October)
El Mundo: http://www.elmundo.es/internacional/2015/10/07/5614034946163f104b8b45c9.html
http://www.publico.es/internacional/mas-17-000-bombas-nucleares.html
OTHERS:
Barcelona Television:
http://www.btv.cat/btvnoticies/2015/10/05/l%E2%80%99alcaldessa-rep-els-supervivents-d%E2%80%99hiroshima/
Llibertat.cat:
http://www.llibertat.cat/2015/10/dos-supervivents-de-la-bomba-atomica-visiten-barcelona-per-l-abolicio-de-les-armes-nuclears-32496
Publico - Barcelona: http://www.elperiodico.cat/ca/noticias/barcelona/una-delegacio-supervivents-dhiroshima-visita-barcelona-4566366
El Periódico - Barcelona:
http://www.elperiodico.cat/ca/noticias/barcelona/una-delegacio-supervivents-dhiroshima-visita-barcelona-4566366
La Vanguardia:
http://www.lavanguardia.com/politica/20151005/54437901430/ada-colau-recibe-a-una-delegacion-de-supervivientes-de-hiroshima.html