National Peace March Starts in the Disaster-afflicted Region, Calling for Abolition of Nuclear Weapons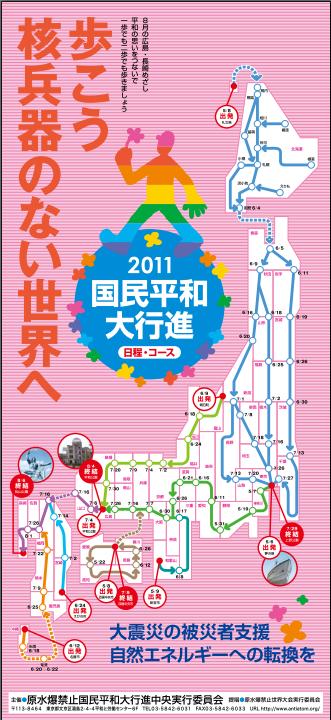 The 2011 National Peace March against A and H Bombs has started in its major 11 routes one after another. The Tokyo-Hiroshima course began to walk on May 6 from the Lucky Fifth Dragon Museum (the Museum of the US nuclear Bikini test) located in Tokyo.
The 2010 NPT Review Conference, held in May that year, agreed to achieve the gpeace and security of a world without nuclear weaponsh, and called on all governments to make gspecial effortsh to establish the necessary gframeworkh for this purpose. Based on this achievement, the Peace March aims at developing the new signature campaign in support of the gAppeal for a Total Ban on Nuclear Weaponsh and enhancing public opinion and actions to ensure that the decisions of the NPT will be fulfilled.
This yearfs Peace March is being conducted under difficulties caused by the March 11 East Japan Earthquake of magnitude 9.0, tsunamis and subsequent Fukushima nuclear power plant accident that meltdown of four reactors and radioactive dispersion happened. It is going to call for support to and solidarity with sufferers of the disaster, and transmit inside and outside Japan a message for a nuclear weapon-free, peaceful and just world, human- and nature-friendly global environment, as well as voices for a withdrawal from nuclear energy.
Starting at Rebun Island on May 8, the Hokkaido-Tokyo course enters Aomori Prefecture on June 5. Afterwards, the March walks through the disaster-afflicted areas of Iwate, Miyagi, Fukushima, Ibaraki, and Chiba Prefectures to Tokyo until the beginning of July. Craig Matsuzaki, young peace activist from USA, and Akihiko Takeda, a through marcher, will join in the March in this region.
June 5 (Sun)
[Aomori]: 2011 National Peace March Aomori Rally
This nature-rich prefecture hosts US military bases and installations, nuclear fuel cycle facility, temporary storage facilities for spent nuclear fuel and nuclear power plants. Through Peace March and the Rally, we transmit the desire of local people for a total ban on nuclear weapons, a shift from dependence on nuclear energy to renewable energies which is friendly to peace, humans and nature. In the rally, they will perform a chorus, drums and folk dances.
June 13 (Mon)
[Iwate]: 2011 National Peace March Iwate Rally
Iwate, along with Miyagi, is one of the two most devastated areas by tsunamis. Participants will gather from Pacific coastal area where people are making utmost effort for supporting the sufferers and their rehabilitation.
June 23 (Thu)
[Miyagi]: 2011 National Peace March Miyagi Rally
Program includes songs and report from afflicted area.
June 26(Sun)
[Fukushima]: 2011 National Peace March Fukushima Rally
Dear friends,
Please send your message of solidarity to the Peace March of the disaster-struck region. Your messages will be a great encouragement for not only peace activists but the sufferers of this region. They will be translated into Japanese and read in their rallies. Thank you. (Yayoi)